Made this yesterday.
Felt sooooo good to craft again.
Here it is in a lovely vignette.
This is the first of several I will be doing in this style.
Thought about keeping this one,
but, decided it is going in the store.
I'm hoping I can do some small custom orders.
Your old pic, and favorite scripture verse.
~~~~~~~~~~~~~~~~~~~~~~~
These bottles are from a little Junkin' I did.
All these for under $2.00!!
The gentleman said they were all his forever.
(and he was pretty old) =0)
So, maybe they are vintage.
See the two at bottom left?
They are only about 2" high!
Any one know what this bottle is from or for?
It is thick glass, bumps around top area......
Here are some more thrifty finds,
and I'm working on something with these.
You are gonna love it!!
(come back Tuesday to see, and for a Giveaway!)
Don't forget about Donna's Funky Junk Party and Celebration.
Prizes offered every day for a week!
Get on over and enter!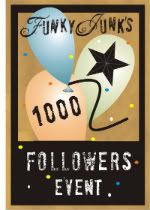 Hope you have a wonderful week.
Free Signature Generator