Hi.
To those of you who are new here, how about a quick introduction.
I'm Barbara Jean, wife, mother, grandmother, shop owner, lover of vintage and shabby things, and creator of artful treasures.
Opening my own brick and mortar store a year and half ago was a dream come true, and a gift from the Lord.
That and starting my blogs shortly after, have given me the opportunity to meet a lot of encouraging, supportive, and kind people.
This giveaway through Funky Junk Interiors is an opportunity for you to help me celebrate and thank everyone for that support.
Here is the lowdown:
You will need to enter at Funky Junk Interiors SNS Party!!
The winner will choose from one of the items below.
When you enter at Funky Junk, let her know in your comment which prize you would like
, and if you do not have a blog please leave an email address.
So, without further ado,
HERE ARE YOUR CHOICES!!!!
Prize #3 I Cor. verse on Love in 5x7" mat
Prize #4 Romans 15:13 verse on Hope ( a small framed piece).
Now hop on over to Donna's, @ Funky Junk Interiors for the Party,
leave a comment there to enter,
and be sure to tell her thanks for having it!!!!
(giveaway ends this Sunday at 11 PM.)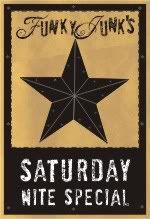 Good Luck Everyone!!!!
AND HERE IS A BONUS:
THROUGH SUN NIGHT AT 11 YOU CAN GET 15% OFF ANY ITEM PURCHASED!
here are some more goodies to tempt you. =0)
GO HERE TO SHOP
Treasures from the Heart Gift Shop
Blessings
Barbara Jean
Free Signature Generator