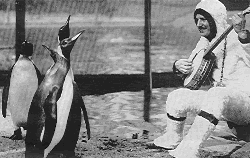 Harry Reser playing the banjo to Clicquot penquins.
It is so fun, in the gather and sell business, to find out the origin or details of things you find.
This green pop bottle is a perfect example.
Here is part of the info I found.

Clicquot Club became one of America's pioneer radio advertisers, creating the Clicquot Club Eskimos, a bright dance orchestra under the direction of Harry Reser which remained on the NBC network week after week from 1926 through 1934. At one time the program was especially cited by NBC as being the oldest continuous weekly show on the network. From the days of the old crystal sets to the latest type of consoles, the Eskimos were standard weekly entertainment in millions of American homes, and the sale of the product extended throughout the length and breadth of America and far beyond its shores.

Magazine, newspaper and outdoor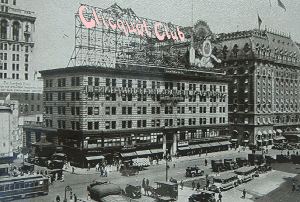 advertising was continued although radio, for a time at least, became the leading medium. In 1924, Clicquot Club installed the largest animated electric sign in the world on Broadway at Times Square, a full city block long, 6 stories above the street. The vivid action of the eskimo boy, the whip cracking and the radiating Aurora Borealis required 21 miles of wiring and 20,000 electric lamps at a cost of $90,000 a year.
During this period full trainloads of Clicquot Club Ginger Ale and other beverages left the 1/3-mile-long siding at Millis for Chicago, Philadelphia and other American centers to be distributed via wholesale grocers to the retailers of the land. to California via pan-isthmian steamers heavy shipments went to the Pacific Coast and to the Orient.



I love the animated sign. Did you see what it cost to run? $90,000 a year!!


That was a lot of money in 1924!!!
Here is the

link

if you want to read more.

I still have not found what the bottle is worth, and I guess just the right person would have to find that I have it anyway, but the story was interesting.
What I did find out is that the company was purchased and shut down in 1965, so the bottle is no newer than that.




I found this old Pepsi bottle too, made in Roseburg Oregon
And, I got this coool old bottle holder.
I've never seen on like it before.
Even though the lady said that it was for pop bottles,
they seem too tall for it to me.
Wonder what kind of bottles it held?
Hope you enjoyed my little informational post.
blessings
barbara jea