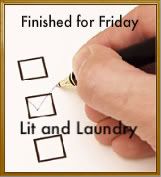 I'm joining in on
Finished for Friday
at
Lit and Laundry
this week.
Let's all go check it out.

Oh have I been busy this week.
Just wait till you see.

I got to craft....

OH ,Oh wait!!
Last week i forgot to show you

my
get r
done
, so here it is....
remember these green plaques?
I spray painted one white....
Then antiqued it brown.
See all those little curly cues, and indents, and stuff?
Took forever to antique it!
Should i do the other to match?
Or do it different? Maybe antique it black?
OK, now on to other projects.
I bought a new table for the store.
It went where the sewing machine was....
So the sewing machine went to a new corner.....
That meant the desk that was in that corner.....
Had to be moved to the kitchen area.

and here is more of that display.



And then I decorated the new table.
AAAH! A great
Get R Done
, don't you think??
Maybe tomorrow I'll show you the new sea shore area. =0))
And here is a peak at next weeks Get R Done.
I started with this garage sale cupboard door,
And will use some of this,
And the stencil I'm cutting.....
And making......
Well, next week you will see what I am making!!
Feels so good to Get some things done,
and be crafting again.
OK, now get on over to see what
the others have gotten done this week..
Thanks for hosting Monica!!
blessings to all,
Barbara Jean
NO OFFICIAL GET R DONE THIS WEEK.
Please pray for our hostess, Monica, at Expressly Corgi.
She is having a hard time right now.
A note to her might be nice.
I've left the link to her site for you.