VIGNETTES!!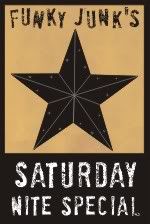 Funky Junk is having another Saturday night special.
Having a gift shop has been a wonderful opportunity to learn to do vignettes.
And that it has been, a learning process.
But I am having a ball doing it!!
So, sit back and enjoy,
and I'll try not to talk all the way through it! =0))
A hand crafted wire vignette.
Of course all these areas have changed again in the past day or two.
The fun at the store is, it is ever changing!!!
And the work is... it is ever changing.
Just like life i guess.
And we have a choice, go with the flow and enjoy it as we go,
or battle it all the way, and worry about every little bit of it.
OK got a bit philosophical!
hope you enjoyed your time here.
blessings
Barbara jean