A couple of days ago I was featured at Gails,
My Reposed Life

.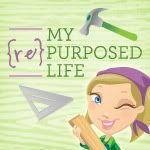 (thank you Gail.)
I had a new visitor from there, and now I cannot find her.
She had a blog chock full of wonderfully creative ideas,
and I want to pass her name along to you,
but, I cannot find her again. (I clean all my files every night).
I've gone through my comments, but still cannot find her.
I left tons of comments on her blog, cause i loved it all so much.
( my arm aches because i could not drag myself away late last night.) =/
One idea that was just too cute was just a red tool box, with flowers in it, with a scrolly shelf bracket, attached to a fence.
(Yes, we have all seen flowers in a tool box before, but it was just too cute with those brackets.)
Her whole blog was filled with sweet things like that!
So, my new friend, with all the too cute things, please email me with your blog address!!!
Blessings everyone
Barbara Jean
PS Gail, my apologies for the small type on your name.
No matter what i did it would not change the size!!