Quick and easy:
I love Psalm 139:17,18.
(click on pic to read verse)
Here it is with a small jar of sand, music paper,
and verse printed from the computer.
All put together in a frame.
You could do it with any verse, and
just add something that will go with it,
or a personal treasure you enjoy.
Sorry this is sideways, and not done,
but, these books of prayers and sweet thoughts
is a great way to have verses already printed out for your art.
You can usually get them pretty cheap at sales, especially if
they have a tear or crayon scribble on a page or two.
A quarter or fifty cents for a bunch of verses is a pretty good deal.

I'll try to have one made up for Friday.



I'm joining these special blogs today.
Hope you will take time to check them out,
and thank our wonderful hostesses.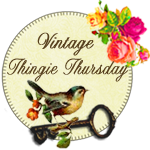 Don't forget my Giveaway.
Ends Feb. 14.
Click on picture right under my banner for info.
Free Signature Generator